PINOY MIXX
Where do I begin? I would like to start engaging with the world-renowned pugilist, Pacquiao, who did another internationally famous stunt. This time, not using his pound for pound skills but committing a verbal faux pas.
Pacquiao's statement on calling the LGBT community worse than animals created a rage not only among its members but also in some sectors especially the sympathizers of the community.
The boxer cum congressman was said to be quoting the bible regarding the same sex relationship or marriage. It should have ended there.
But when he expressed his thoughts on the quotes, the statement he made instantly created his own political grave affecting even his business contract as an endorser of an international footwear brand.
My thoughts? It's just a matter of semantics. We are all animals, right? And that makes Pacquiao definitely, not an exception.
Now, to call the LGBT worse than the animals could mean they are inferior in excellence, quality or character.
All humans despite being part of the animal kingdom were endowed with feelings, free will and the intellectual faculty.  These divine gifts uniquely separate us from other species in the animal kingdom declaring us stewards of God's creation.
God in His inscrutable mind created everything. His positive and permissive will allowed us to exist without discrimination. Human judgment is not the end all and be all. God is the only judge and no one has to right to label and damn anybody. You do not say, Pacquiao damn you! That is nugatory. But, if you say God damn you! We should cower in fear.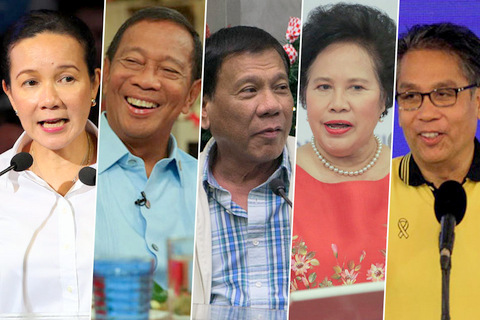 The Philippine presidential debate, a comic relief
Gone are the days when presidential aspirants are truly presidential. Watching the debate organized recently by GMA Network in Cagayan de Oro showed the weaknesses and the insignificant strengths of the candidates.
The debate showed the kind of leadership the Filipinos would contend within the next six years if any one of these candidates is elected.
It is disappointing to see probable leaders expressing their thoughts and insights on the country's long-time problems with mediocre solutions.
All of them came wanting in one way or the other: Mar Roxas lacks the charisma, an important trait in a leader that could forge unity and obedience to a cause or advocacy; Jojo Binay does not have the credibility, he has an image of a corrupt and traditional politician; Digong Duterte is an anti-thesis of a gentleman, a leader acceptable only to the bygone era of a wild, wild west; Miriam Santiago looked tired and sick, she lacks the physical capability to lead a developing country; and Grace Poe projected a sophomoric and intellectually pretentious leader, truly lacking in experience.
It is not surprising that surveys are shifting every now and then while the electorates are still vacillating and waiting for some divine intervention.
Hundred Islands escapade
The Philippines will never run out of nature's bounty. In the province of Pangasinan in Luzon, it boasts of 123 islets that are now attracting both local and foreign tourists.
An events group, RAVE vents, is organizing the motorbike riders in Alaminos City in Pangasinan and from other parts of the country in collaboration with the local government.
Dubbed as Tour Go, an event that will feature activities featuring education on safety and road courtesy, environmental protection and preservation, and tourism.
As we did our ocular of Alaminos City, we were in admiration of the 123 islets that the local government has developed.
The last time I have been to these islets was some 38 years ago and I have already marveled at the majestic beauty of the place.
Today refurbished with the amenities and facilities developed and provided by the incumbent City Mayor Arthur Celeste, Alaminos City and Hundred Islands is sure to become another country's pride and jewel.
I would rather not say much about the place but will just let the pictures speak for the place.
Congratulations to filmmaker Lav Diaz for winning the Silver Prize in the 66thBerlinale for his film "Hele sa Hiwagang Hapis."
I heard from a reliable source that Meryl Streep was all praises for the film and she singled out Susan Africa. My source said that Meryl finds Susan very pretty and wanted to meet her in person.
Susan intimated to me via Facebook that Meryl embraced her tightly like a long lost relative during the encounter at the party.
---
Who da who?
Who is this newbie actor whose sex video has gone viral while he was doing a self-gratifying act? Some were saying that he did it on purpose for some publicity.
This veteran stage, television and film actor has created quite a lot of enemies for himself. Some common friends had deleted him on social media because of his distasteful comments.
How true is the rumor that this young male television host and actor had impregnated his co-host? The young actor's wife knew all along about this but would approve of the illicit affair just to satisfy her husband's insatiable sex drive. The thing is that the wife has just given birth
A colleague whispered to me about an administrator in a popular school who gave a full scholarship to a student plus gifts from abroad just to win the student for a "favor". The student who is now a graduate even told my source that a grade was already given even prior to the thesis defense. Sadly for the administrator, the student did not return the favor.