Multicultural Helping House Society proudly organized the successful Cooking with Seniors 101, the 1st Cook-off held at the Meridian Hall in Vancouver. An exciting battle of popular Filipino dishes and recipes handed from one generation to another was followed by a final cooking competition.
The Multicultural Helping Society is proud not only to help newcomers integrate into Canadian society but also to organize projects to show the Filipino culture through food. MHHS founder Tatay Tom pointed out it's important to pass on the recipes to all the Filipinos who were born here and to those who came here so young.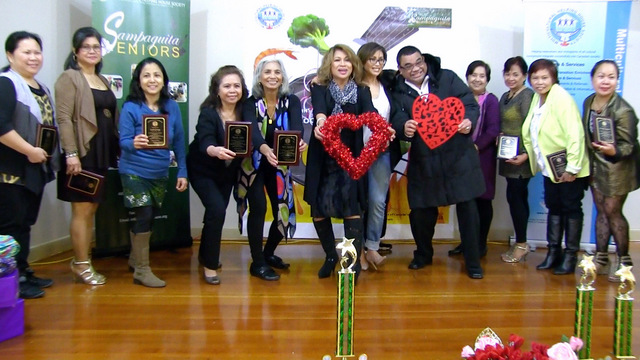 "I think the obligation of teaching them how to preserve Filipino food as a culture is on us. All of the seniors are good in cooking, we have to relate to them how to cook Filipino food. It is our food, I think, second to music that can preserve our culture," said Tatay Tom.
The Cook-off began with the presentation of each cook and their dishes to the judges. Criteria for Judging is 40% for Presentation, 30% for Nutrition and 30% Taste.
The entries were the following:
Aida Bhargava – Buttered chicken

     

Loida Guiang – Embutido

                       

Carmie Claudio – Meatless Spaghetti

       

Leocisa dela Cruz – Beef Steak

                 

Joy Neri – Chicken Curry

               

Susan Panlican – Crab Meat

                 

Rose Tedlie – Beef Caldereta

                 

Opresina Bacsafra – Green Jackfruit with Sardines in Coconut Cream Sauce
Levna Anorico – Smoked milkfish in coconut cream sauce
Nelia Asutilla – Chicken Adobo with Papaya in Coconut Cream Sauce
Helen Villarico – Roast Chicken

         

Cleotilde Tiamzon – Dalagang Bukid Sweet and Sour Fish Ball

           

Jocelyn Areno – Stuffed Mussels.
After the taste testing and judging, the people were invited to try all the dishes and were given ballots to vote for the People's Choice Award.
The People's Choice Award went to the Stuffed Mussels by Jocelyn Areno.
The Cook-off winners were:
$100.00 – 3rd prize – Chicken Adobo in coconut cream sauce with papaya by Nelia Asutilla
$200.00 –

 

2nd prize – Beef Caldereta by Rose Tedlie
$300.00 – And 1st prize for Stuffed Mussels by Jocelyn Areno
Coordinator/Seniors Cook-off, Angie Igonia, was overwhelmed with the outpouring support marking it the first successful Cooking competition organized by MHHS.
The panel of judges were yours truly, Star Bernardo (Winnie Chan), Papa Bear Legaspi, Ching Colobong, Josefina Calapini Garcia, Lita Tapia, and Laarni Liwanag de Paula. The two volunteer emcees were Maimai Deocareza Clavio and Flordeliza Lontoc.
MHHS youth Coordinator, and the over-all leader for volunteers was Liza Caluzin.
A series of cooking demonstrations were held at the MHHS which is now compiled into a recipe book. This is available at the MHHS.
For more information, please go to www.helpinghouse.ca.